Spousal Sponsorship Canada
Moving abroad and leaving your loved ones on opposite coast is not easy. One of the objectives of Canadian government is to see that families are reunited in Canada.  Spousal sponsorship program is the most demanded stream under family class immigration. Immigration, Refugees and Citizenship Canada (IRCC) strongly supports family reunification, thus spousal sponsorship application processing is given the highest priority at Canadian Visa Offices. Processing time was recently reduced from 26 to 12 months for 80% of applications for both in-Canada and outside of Canada cases.
The spouse, common-law partner or conjugal partner looking to immigrate to Canada under spousal sponsorship category must be sponsored by a Canadian citizen or permanent resident. If you applied to sponsor spouse outside Canada, once decision is made and sponsorship application is approved, Canadian immigration authorities will issue the applicant Canada Spouse Visa (a confirmation of permanent residence).
Applicant (person being sponsored) will become permanent resident upon landing in Canada, and must enter Canada before the expiry date, which appears on temporary visa.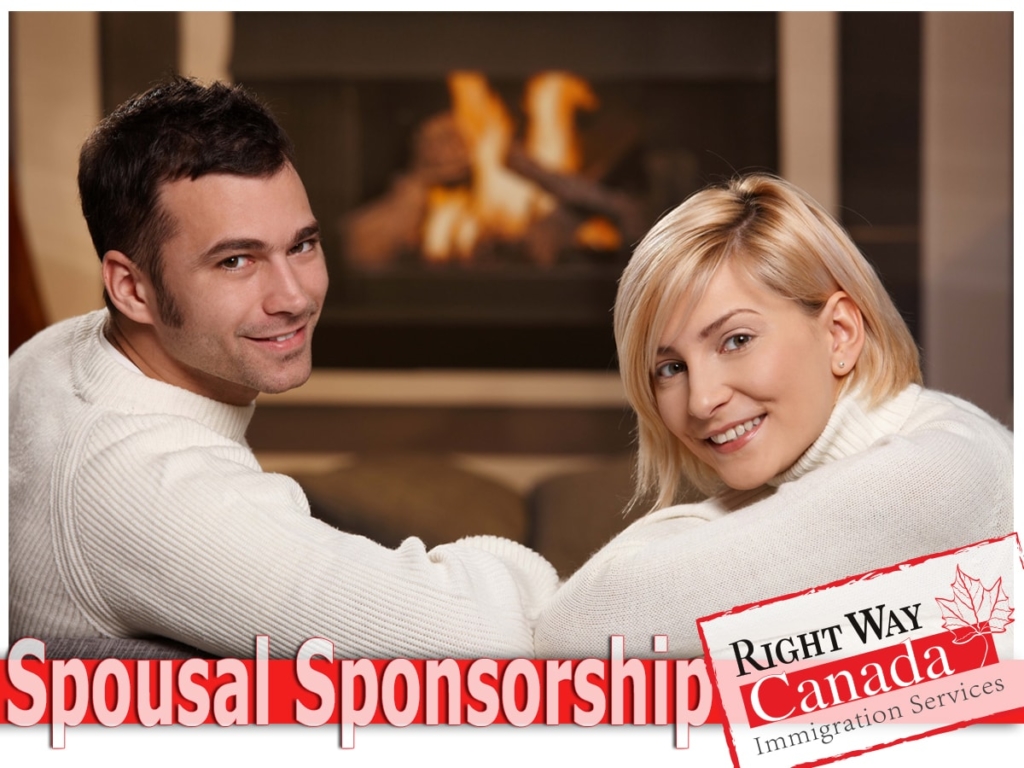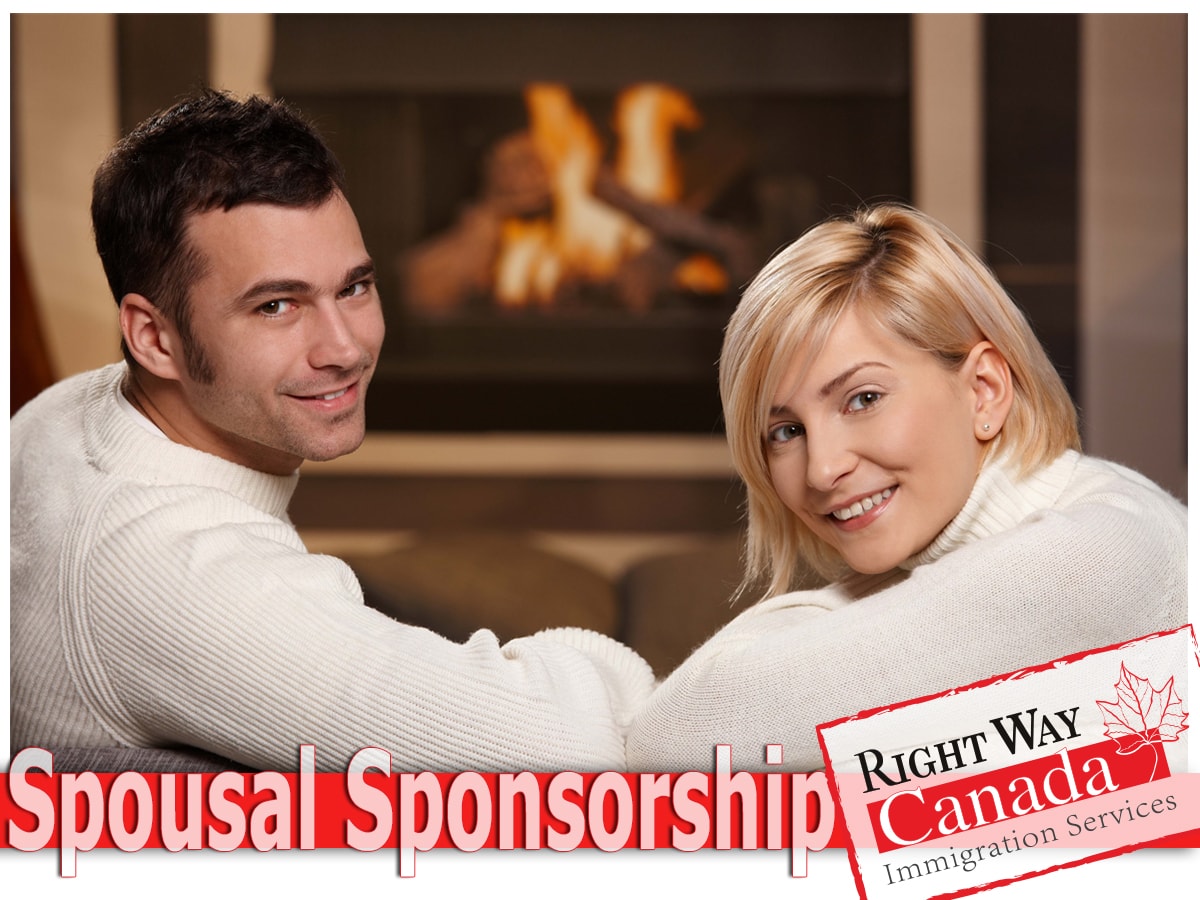 If you are looking to apply for spousal sponsorship inside Canada, application is being processed first and once approved, applicant's status will change from temporary to permanent. Spousal sponsorship within Canada gives an opportunity to person being sponsored and living in Canada to apply for an Open-Work Permit.
Our Canadian immigration services include different options where you can choose between Full Representation, Final Review and Do-It-Yourself packages. If you have any questions, you can book consultation (In-Office / Online / Phone) to speak with immigration consultant in Toronto.
While spousal sponsorship might not be an option for you at this time, you may also consider temporary residence program such visitor visa.
Spousal Sponsorship Processing Time 2018 Inside or Outside Canada
Application Package
Complete all forms and prepare all supporting documents required for your situation. Application package may differ based on applicant's country of residence, as well as documents issued by other countries. If you're applying under the Spouse or Common-Law Partner in Canada class, your spouse or partner may be also eligible to apply for an Open Work Permit.
Letter of acknowledgment
At this point processing starts. IRCC will not send an acknowledgement of receipt until they have opened your application and checked that it is complete. As you go through the process, you may receive requests for additional documents. Make sure to check your online account and email for updates.
Medical Examination
IRCC will provide deadline and instructions on how to get medical exam done. You must go for your medical exam within 30 days of receiving these instructions. If you do not follow these instructions, IRCC may refuse your application. If there is a problem with your medical exam, IRCC will contact you to advise.
Decision
IRCC will finish processing your application after they have received all the necessary information. Once approved, applicant will receive confirmation of permanent residence. If officer is satisfied that you meet the requirements to enter Canada, you will be allowed to enter Canada as a permanent resident.
a Canadian citizen, a person registered in Canada as an Indian under the Canadian Indian Act or a permanent resident,
at least 18 years old
living in Canada:

if you're a Canadian citizen living outside Canada, you must show that you plan to live in Canada when your sponsored relative becomes a permanent resident.
You can't sponsor someone if you're a permanent resident living outside of Canada.

You must also be able to show that you can provide basic needs for:

yourself,
your spouse or partner,
your spouse or partner's dependent child(ren) (if applicable)
your dependent child(ren) (if you're sponsoring only your dependent child).
In most cases, there is no low-income-cut-off (LICO) for spouse, partner or dependent child sponsorships. However, if either a spouse or partner you're sponsoring has as dependent child who has dependent children of their own, or a dependent child you are sponsoring has a dependent child of their own, you must meet a minimum LICO score, which is determined by the Canadian government each year. If you must meet LICO requirements, you must include a Financial Evaluation (IMM 1283) form with your application
signed an undertaking for a previous spouse or partner and it hasn't been three years since they became a permanent resident,
receive social assistance for a reason other than disability,
previously sponsored someone and did not pay back any social assistance that they received while the undertaking was in place.
are in default on an immigration loan or a performance bond
did not pay court-ordered alimony or child support
have declared bankruptcy which has not been discharged
were convicted of

an offence of a sexual nature,
a violent crime,
an offence against a relative that caused bodily harm or
threatened or attempted to commit any of the above offences—depending on the nature of the offence, how long ago it happened and if you received a pardon

were previously sponsored as a spouse, common-law or conjugal partner and became a permanent resident of Canada less than five years ago,
are under a removal order,
are in a penitentiary, jail, reformatory or prison,
have already applied to sponsor your current spouse or partner and haven't received a decision.
Sponsor Spouse, Partner or Fiance

Spouse Visa
Spouse is a person, who must be legally married to a sponsor. The marriage should be valid both under the laws of the country where it took place and under Canadian law. It is important to check the rules of consanguinity that are required in the jurisdiction where the marriage took place. Married couple's relationship must be genuine and continuing. Also married couple should be able to demonstrate a mutual commitment to a shared life as spouses. In case sponsor was previously married and obtained divorce, it must be valid both in the country where it was obtained and be recognized in Canada. Country-specific regulations may apply.

Fiancé/fiancée Visa
Fiancé/fiancée is a relationship where a couple is engaged to be married or betrothed. Government of Canada has discontinued fiancé/fiancée visa program in 2002.  If you have cohabited with your fiancé(e) for more than one year, you may consider the common-law partner stream. Or if you had a conjugal relationship and due to exceptional circumstances, you are not able to live together, you may consider the conjugal partner stream. Most likely you will consider getting married overseas and starting spousal sponsorship process. You may also try bringing your fiancée here as a visitor and get married in Canada, but you will need to disclose to visa office that he/she is engaged to you.

Common-Law Partner
Common-law partner (same or opposite-sex) is someone with whom a sponsor has cohabited in a marriage-like relationship without any long periods apart for at least 12 consecutive months. Time spent away for each person must have been short and/or temporary leave for family, work or business-related travel. Even when cohabiting common-law partner has not divorced with their previous spouse, their relationship with sponsor may be considered as a common-law relationship, given they have cohabited for a period of at least one year. Regulations in regard to minimum age and consanguinity apply. Both sponsor and applicant will need to provide proof, that they have been living together for at least 12 months.

Conjugal Partner
Conjugal partner in relation to a sponsor, is someone residing outside Canada who has been in a conjugal (marriage-like) relationship with the sponsor for at least one year. It is important to note that this is a specific category of applicants who otherwise do not qualify to immigrate as spouses or common-law partners, because of certain impediment to a marriage or residency together. This is exceptional situation, where cohabitation is not a requirement for a conjugal partner relationship. However, the lack of cohabitation is usually the result of an immigration impediment. A sponsored application for permanent residence can still be filed, but only under the Family Class outside-of-Canada process.
Spouse Immigration FAQ
I want to sponsor my husband. Will processing time be faster via inland (within Canada) or outland (outside Canada) sponsorship?
Family reunification is a key immigration commitment for the Government of Canada. Processing time for 80% of the cases both overseas and in-Canada is currently 12 months.
Can permanent resident of Canada sponsor spouse or common-law partner?
You can become a sponsor if you are:
at least 18 years old
a Canadian citizen,
a permanent resident living in Canada
a person registered in Canada as an Indian under the Canadian Indian Act
If you are a Canadian citizen living outside Canada, you must demonstrate that you plan to live in Canada when your sponsored spouse or common-law partner becomes a permanent resident.
Can I include dependent children in spousal sponsorship application?
You may include dependent children in your application, if they meet the following requirements:
As of October 24, 2017, to meet definition of "dependent child", a child must be in one of the following situations:
under 22 years of age and not a spouse or common-law partner
22 years of age or older, have depended substantially on the financial support of the parent since before the age of 22 and be unable to support themselves financially due to a physical or mental condition
Dependent children who do not have a physical or mental condition must remain unmarried and not in a common-law relationship for the duration of processing, up until the point of becoming a permanent resident.
Can I work in Canada while my spousal sponsorship application is pending?
If you applied or planing to apply, under the Spouse or Common-Law Partner in-Canada class, you can also apply for an open work permit. This will allow him or her to accept any job from any employer and work, while application is being processed.
Can I sponsor my spouse and children, if I am currently living outside of Canada?
If you are a Canadian citizen living abroad, you may sponsor your spouse and dependent children. You must present a reasonable plan to return to Canada immediately once the sponsorship application is approved. However, you can't sponsor someone if you're a permanent resident living outside of Canada.
Can I withdraw my sponsorship application? Will I get a refund?
Eligibility for refund depends on application processing stage:
If IRCC did not start processing, you will receive full refund
If IRCC started processing sponsor's application, you'll be refunded all fees with the exception of C$75.
If IRCC finished processing the sponsor's application and started processing the permanent residence application for the sponsored person, you will get the Right of Permanent Residence Fee (C$490 per person) back, if applicable.
If application was refused, application fees will not be refunded.
Can my spouse or common-law partner apply for visitor visa while spousal sponsorship application is pending?
You can certainly try. However, if you are applying from a country that is not visa-exempt, it is important to provide additional evidence to satisfy officer that you will leave Canada at the end of your stay as a temporary resident.
I'm a full-time international student in Canada, can I sponsor my wife?
Temporary residents of Canada are not eligible to become a sponsor. Your spouse or common-law partner may apply for an open work permit, if you:
are a full-time student at a:

public post-secondary school, such as a college or university, or CEGEP in Quebec
private college-level school in Quebec or
Canadian private school that can legally award degrees under provincial law (for example, Bachelors, Masters or Doctorate degree) and

have a valid study permit.
What is the difference between conjugal and common-law partner?
A conjugal partner relationship is a relationship that does not fit the requirements of a common-law relationship,due to the circumstances beyond your and your partner's control. Relationship wouldn't be considered conjugal, if you and your partner could have lived together in a common-law relationship but chose not to do so.
What are my responsibilities under spousal sponsorship undertaking?
By signing undertaking, you are promising to give financial support for the basic needs of your spouse or partner and their dependent children.
Basic needs are:
food, clothing, shelter and other needs for everyday living,
dental care, eye care and other health needs that aren't covered by public health services.
If people you sponsor apply for and receive social assistance, you'll have to pay back what they received during the time you were legally responsible for them.
Can I be sponsored if I have a criminal record or a medical condition?
Some people are not allowed to enter Canada. The definition used by Immigration, Refuges and Citizenship Canada is "inadmissibility". There are many reason, why you may be refused entry to Canada:
• you are a security risk,
• you have committed human or international rights violations,
• you have been convicted of a crime, or you have committed an act outside Canada that would be a crime,
• you have ties to organized crime,
• you have a serious health problem,
• you have a serious financial problem,
• you lied in your application or in an interview,
• you do not meet the conditions in Canada's immigration law, or
• one of your family members is not allowed into Canada.
What are the chances of my spousal sponsorship being refused or delayed?
Insufficient or contradictory documentation may lead to delays and/or all refusal of your application. Your application processing may be delayed due to a number of reasons.
Things that can cause delays:
Your medical and security screening takes longer than usual
IRCC requests additional information
IRCC decides to interview you
You did not respond to IRCC requests for information in a timely manner
High numbers of applications